"Salamanca charms the will to return to it of all of those who have enjoyed the peacefulness of life there"
- Cervantes.
It is unarguable that Salamanca's charm cannot go unnoticed by all who visit for the first time. In 2002, Salamanca's historical and cultural heritage was finally recognized internationally and the city was named European Capital of Culture. I wrote this article based on my knowledge of the city and, above all, from my heart. Salamanca is my hometown and where I spent my childhood and university years.
The feeling you get when you stroll through Salamanca's historic centre is incomparable. Elegant monuments rise in a golden glow as the sun's evening light basks the famous facades constructed in Villamayor sandstone, known as Golden Stone. This experience has served as inspiration to many writers who have, multiple times, attempted to describe this spell that Salamanca sets on the souls of those who wander its streets.
The ancient Roman bridge, the majestic Main Square, its two cathedrals, and the jewel of the city, its University which recently celebrated its 800th anniversary which has seen the origin of so much talent, all make Salamanca an unforgettable city.
Salamanca does not only offer visitors visual pleasures; food-lovers will find culinary wonders in the recipes which express the province's produce and traditions. The charro (as Salmantinos are known) kitchen pertains to the Guijuelo Appellation, whose stamp can be found on some of the best Iberian hams in the world. Spanish ham and cured meats complement traditional recipes such as hornazo and chanfaina.
Salamanca's cuisine is linked to its climate of cold winters and short, hot and dry summers. Recipes vary throughout the year and chefs adjust their menus to reflect the produce made available by area farmers.
In recent years, the growing prestige of Salamanca's cuisine has been accompanied by food's best friend: wine. The province's wines have undergone a revolution in recent decades, making Salamanca one of the most important wine producing regions in Castilla and Leon.
The resurgence of historic vineyards
Presently, the province of Salamanca has two recognized wine areas: the D.O. of Las Arribes, and the D.O.P. (Denominación de Origen Protegida or Protected Designation of Origin) of Sierra de Salamanca. These two areas have different geography and climate characteristics. For these reasons, different grape varieties shine in each. Today, we'll take a close look at the D.O.P. of Sierra de Salamanca.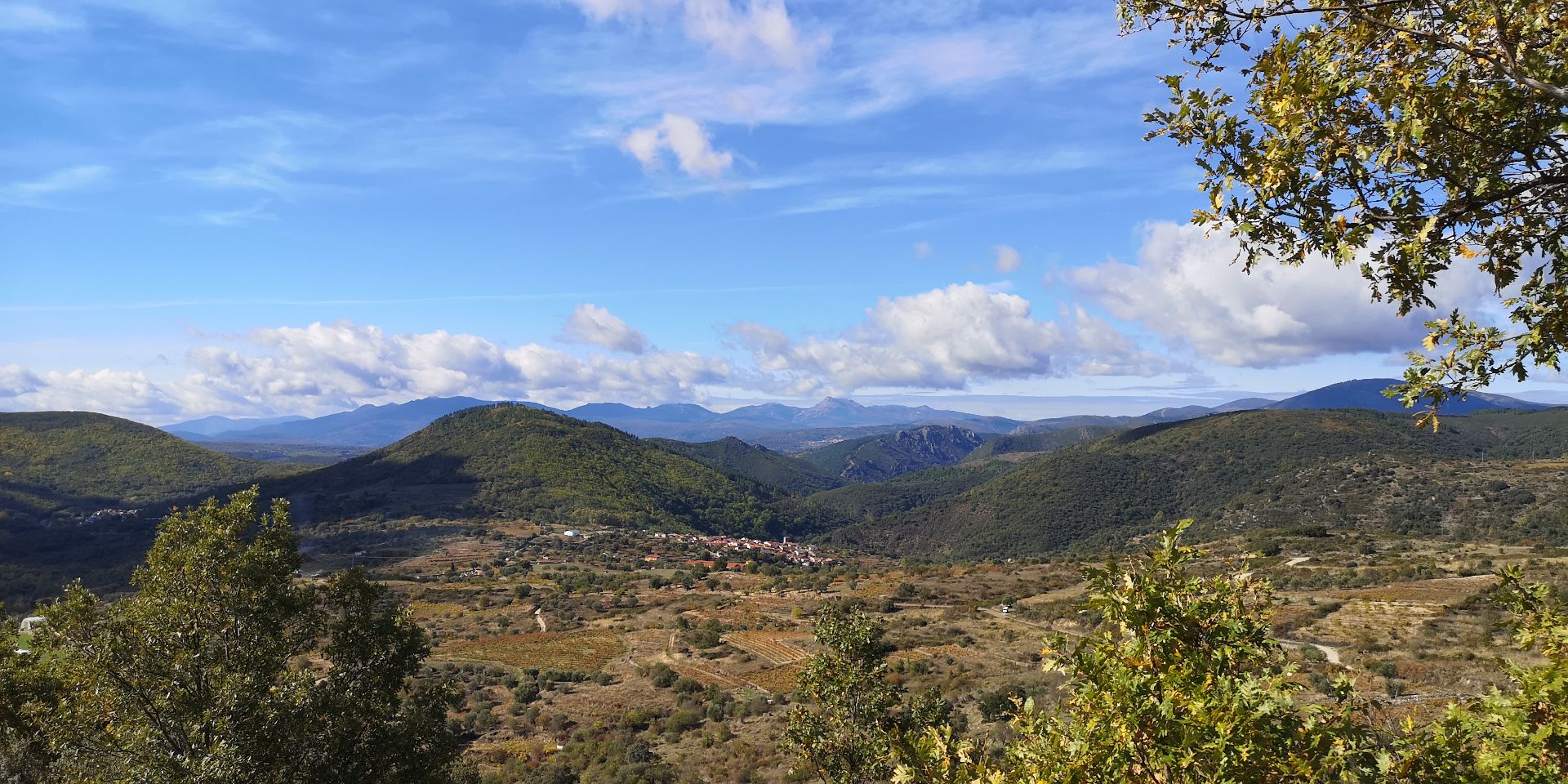 Although the first written records showing the importance of wine in Sierra de Salamanca can be dated to the 15th century, the area's vineyards are found in soil which was farmed by Romans many centuries earlier. During the 19th century, wine production was one of the principal economic motors for the surrounding villages. Since the 1950's, thanks to local cooperatives which saved many old vines, wine production underwent a modernization process. However, depopulation of rural areas in the 70's and 80's resulted in the abandonment of many vineyards. These vines found themselves in a desperate state of neglect.
Thankfully, the knowledge and talent of a small handful of winemakers arrived in time to save the potential of many of these vines. Because of their faith in indigenous varieties, soil characteristics and a distinct microclimate, the Sierra de Salamanca D.O.P. now counts itself amongst the most worthwhile wine destinations in Castile and León.
In 2010 the D.O.P. Sierra de Salamanca was formed, protecting the traditional characteristic of the area's wines. At the present, the D.O.P. consists of nine producers.
Centuries-old terraced vines inside Las Batuecas natural park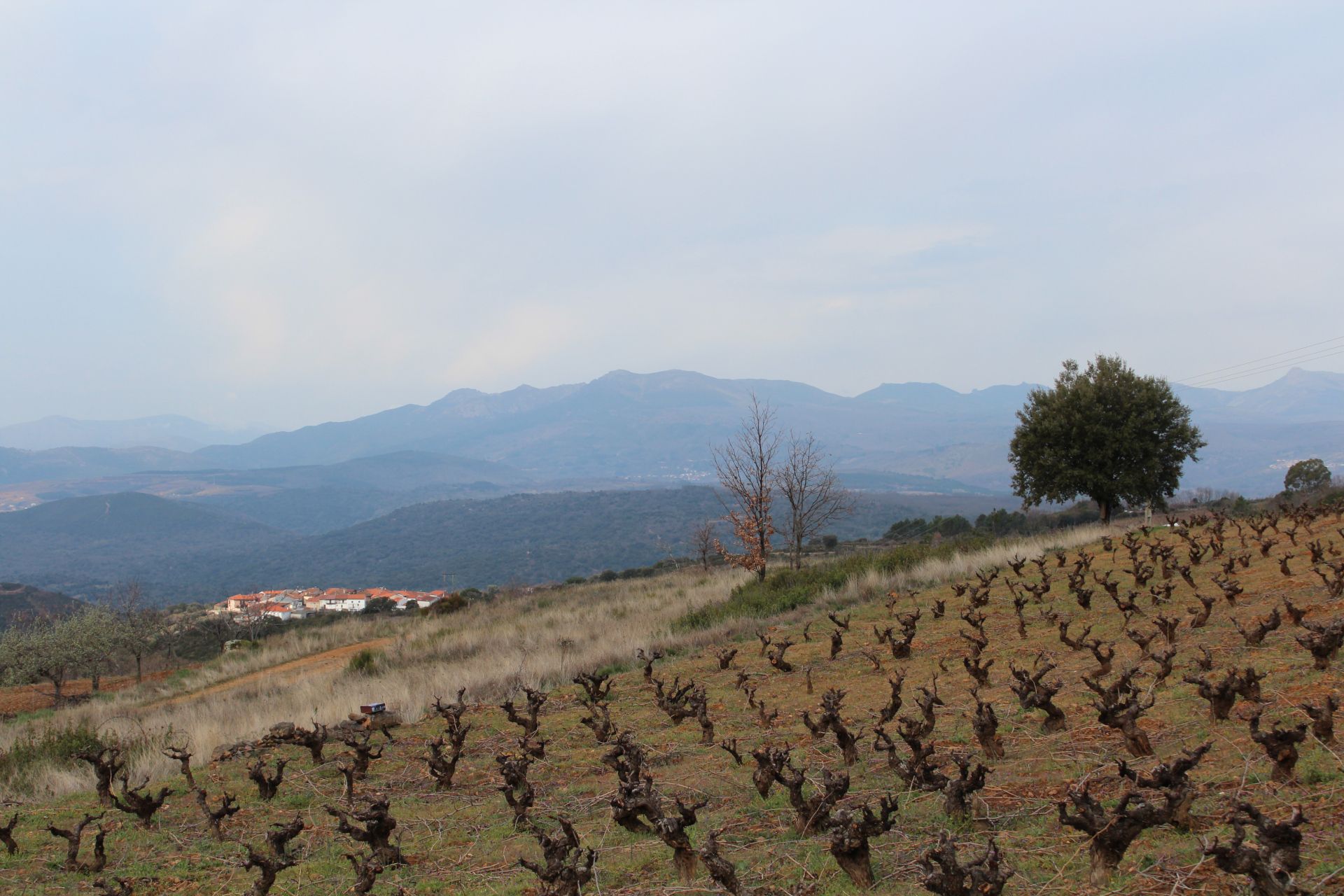 The D.O.P. Sierra de Salamanca can be found in the province's southeast, and has an area of 482 square km, part of which falls inside the Las Batuecas natural park, a protected area of beautiful scenery.
Of the 26 municipalities that make up the D.O.P, Mogarraz, Monforte de las Sierra and Miranda del Castañar stand out for their historic importance and beauty. Their medieval origins have been preserved thanks to their out-of-the-way and difficult-to-access locations. Their narrow, winding streets lead to displays of historic roots, presented by stone houses which fascinate those who venture to visit this area. The mountainous terrain backdrops the toil of countless generations of winemakers, where terraced vines overlook the Alagón river.
The area's microclimate is ideal for quality grapes. Winters are moderately cold, but short and are followed by long, hot and dry summers. Although the impact of climate change has been felt in recent decades, spring and fall rains provide necessary water for the vines growing in this soil which has little capacity to store water. During the summer, nights bring a welcome drop in temperature, allowing the grapes to maintain their acidity, a key factor that extends the ripening time and provides balance to the wines.
In an area of relatively low production volumes, large differences in elevation mean that grapes are grown on plots ranging from 400m to 1000m. Each vineyard stands out with a unique personality.
Sandy soils of granite origin and slate-based clays

Within the D.O.P., one will find a wide diversity of soils. Granite sands promote elegance and delicateness, while chalky soils found in the centre of the D.O.P. give more structure, concentrated aromas and a fuller body to the wines. In the west, green-grey clay is attributed to the Cambrian period, which served as inspiration for the name of Bodega Cámbrico.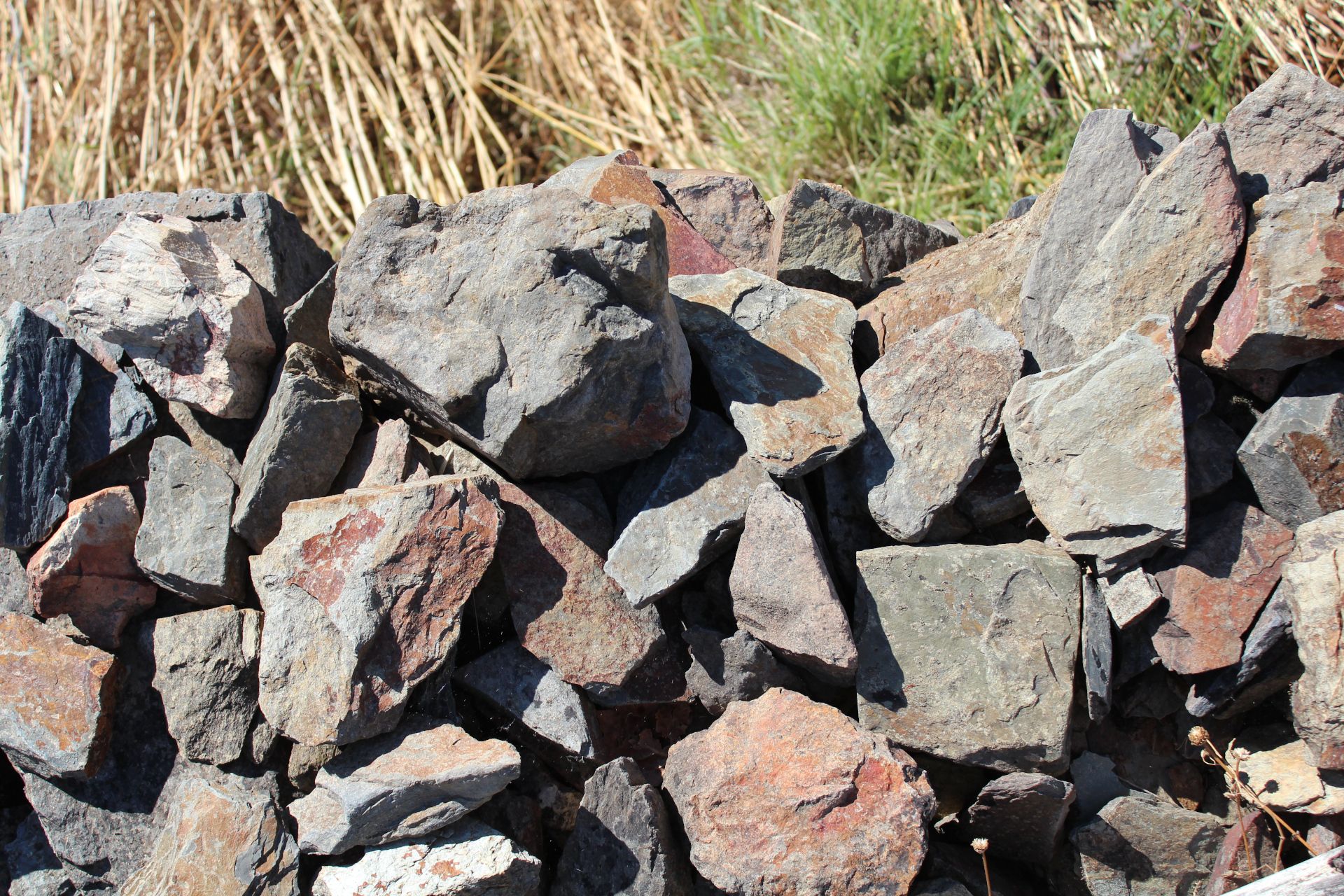 Amid this diversity of soils and altitude, grape growers and winemakers produce wines based on their own interpretations of the area's personality, using the unique characteristics of the Rufete variety.
Rufete - the grape that captivated Robert Parker

"Delicate, elegant and with a unique personality". This is how the wine critics from The Wine Advocate described the Rufete grape variety, which seduced their palates during a recent visit.
This medium-sized, thin-skinned native variety is widely adopted amongst the vineyards of the Sierra de Salamanca, where production is concentrated. It's also found sparingly north of Zamora.
A delicate grape, Rufete requires special care on the vine and in the cellar. That said, a knowledgeable producer can produce wines of great elegance and subtleness, with velvety tannins, floral aromas and notes of red fruit, herbs and spices. The abundance of old vines is one of the keys to success of Rufete wines, allowing them to reach high levels of intensity and complexity.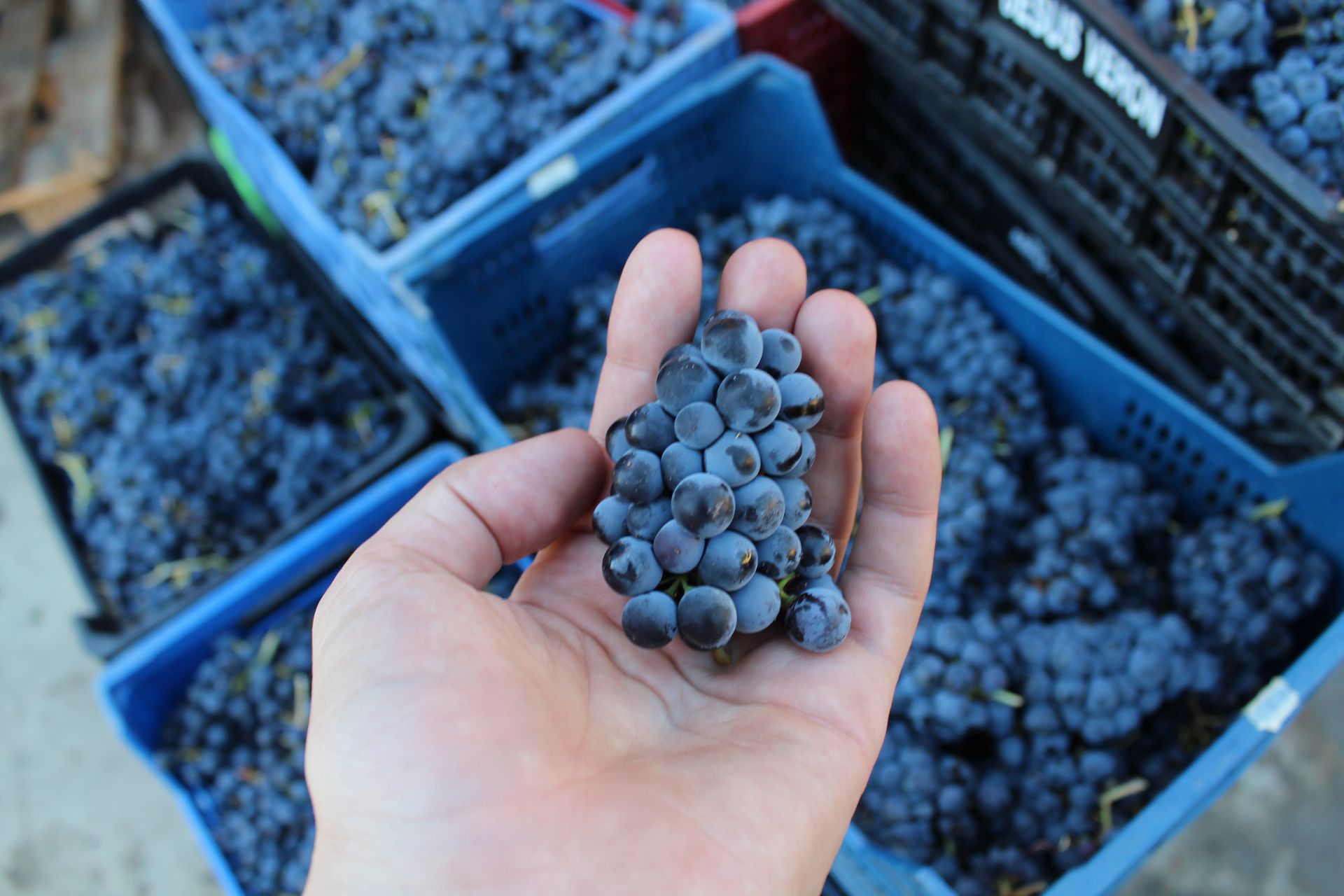 The supporting actors in the region are the varieties of Calabrés and Aragonés - both of which rise to the occasion to gives a different profile to the wines of the Sierra de Salamanca.
Calabrés is a clone of Garnacha Tinta, which has been pleasantly adapted to the characteristics of this area. Aragonés is a Tempranillo clone, and in La Sierra de Salamanca, where it is grown in granite sand soils, it exhibits a more delicate, less robust profile.
That said, everything isn't red in this D.O.P. White wine production has also evolved in the last two decades. Very recently (Mayo 2020), Rufete Blanco was officially recognized as a grape with its own identity and genotype. This variety is even more rare than Rufete Tinta, and is found exclusively in the mountainous areas in the province of Salamanca. At the present, the limited production is showing promising results. Other white varieties include Viura, Moscatel de Grano Menudo (the Spanish name for Muscat Blanc à Petits Grains), and Palomino.
The Sierra de Salamanca D.O.P. permits red, white and rosé wines. Reds are produced under the following ageing conditions:
Crianza: aged for a minimum of 24 months after Nov. 1 of the vintage year. At least 6 months in a 330 litre barrel.
Reserva: aged for a minimum of 36 months after Nov. 1 of the vintage year. At least 12 months in a 330 litre barrel.
Gran Reserva: aged for a minimum of 60 months after Nov. 1 of the vintage year. At least 24 months in a 300 litre barrel.
Envejecido en Roble: aged in 600 litre oak barrels. Time in barrel must be indicated and can range from months to years.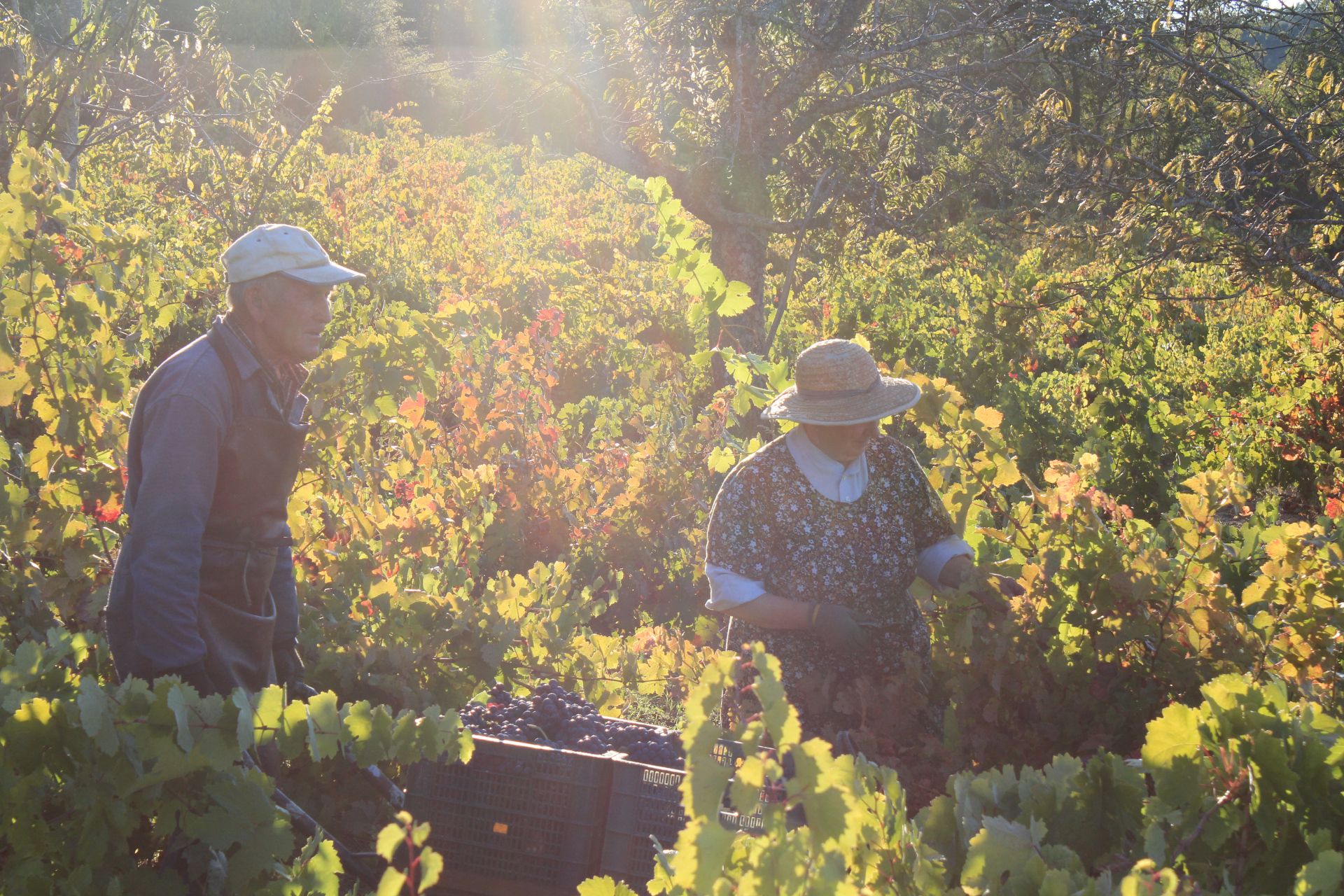 These great wines, together with local gastronomy and unforgettable medieval villages make this area a worthy destination.
In following posts, I will introduce some of the lead producers in the region and their wines.
Until next time, Salud!
A special thanks to the D.O.P. Sierra de Salamanca for providing photographs and statistics.
Interesting Facts:
Wineries: 9
Winegrowers: 92
Area: 118.14 Ha
Area under vine: 90.33 Ha
Maximum Production: Reds - 7000kg/ha; whites-9000kg/ha